Case Study of the month
Blippy Finds Fun in Nail Clippers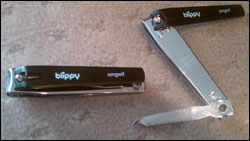 The leadership team at Blippy, a social media site where users post and follow each other's notes about what they are buying, was looking for a fun and slightly off-kilter promotion to get people to sign up for the service. Sort of a Twitter for shopping, the site lets users help each other find good deals, so it made sense to draw people to the site with a fun freebie.Rather than a pen, mug or luggage tag, the Blippy team decided on a more unusual, but still practical giveaway: a branded nail clipper. Users could get the metal clipper, which was emblazoned with the Blippy logo and the Web acronym "omgwtf," by creating a Blippy account and sending in their mailing address. The three-month campaign dripped with snarky humor, from cofounder Philip Kaplan's Tweet – "I'm not kidding. You think I'm kidding but I'm not." – that included a link to the promotion's website (www.freenailclippers.com) to the promise on the site that, "We will mail you actual nailclippers. In the mail. For your manky talons.""We started the promotion kind of as a joke, but it's become much bigger than we expected," says Kaplan, who has founded several other Internet companies over the years, including AdBrite and PK Interactive. "It's fun and a relatively inexpensive way to please our users."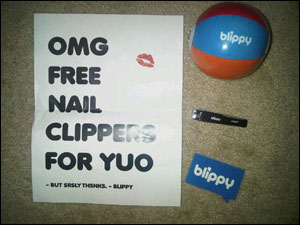 Though when asked who the clipper giveaway was targeting, Kaplan dryly says, "people with fingernails," the tone and methods for getting the word out – through Tweets and blog posts – targeted the message to the Web-savvy people most likely to embrace Blippy.
The company, which launched at the beginning of 2010, has gotten much of its growth from public relations and word of mouth, so the free clipper fit in with Blippy's viral strategy. The giveaway got a number of hits on tech and business news sites, and it was all the company could do to keep enough clippers on hand to fill orders.
Though Kaplan can't put a specific number on additional users Blippy has acquired through the promotion, he jokes, "The nail clipper company probably thinks we're crazy because we keep reordering these 500-count boxes."
This case study was published on Succesful Promotions
Barbara Peisajovich, MBA – Alto Marketing – www.altomarketing.ca
For reprint information contact Barbara Peisajovich, at Barbara@altomarketing.ca writing reprint in subject line.